Mention of Spain conjures up images of bullfights, flamenco dancing, and sangria on hot, sandy beaches. These descriptions may hold true if you are headed to Andalusia in southern Spain, but the rest of the country's regions have a vast variety of cultures, food, drink, and even language– particularly when it comes to these top four Spanish getaway destinations!
Madrid
Madrid is a large metropolitan city like any other, which is good if you do not have an extensive Spanish vocabulary. You can generally find someone here who will understand English. If you speak Spanish, you will encounter standard Castilian Spanish.
Madrid is the perfect Spanish getaway destination for city lovers. It has a good mix of standard restaurants, bars, and clubs, so you will surely be able to find something to suit your social tastes. Madrid is also home to magnificent art in the world famous Prado and Reina Sofia museums, as well as the Royal Palace.
Be aware that Spain is a very progressive society in terms of relationships, and the Chueca district of Madrid is acknowledged as the gay and lesbian area.
Barcelona
Barcelona is a big city on the coast of the Mediterranean. It is an eclectic area that draws in a wide variety of travelers, making it another top Spanish getaway destination. You won't feel too far out of your element here, because there are still a good number of English speakers.
Travel tip: Be advised that in Barcelona, the street names and major destinations are usually written in Catalan, the language spoken by the locals.
When you go, don't miss the boulevard of the famous La Rambla in Barcelona, which carries an eccentric mix of street performers and vendors. Also keep an eye out for Gaudi's Segrada Familia and Parc Güell.
Travel tip: Be wary with your pockets here, as it can get touristy and crowded.
Granada and Seville
As far as Spanish getaway destinations go, Granada and Seville fit the stereotypical Spanish mold– with a little bit of Arabic influence thrown in to the mix. You'll enjoy this area if warm weather, dark skin, and beautiful plazas with local bars fit your idea of the perfect Spanish getaway.
Here the "tapas" culture is in full-force. Tapas are small dishes and finger foods that (in southern Spain) come with the purchase of a beer or glass of wine. These can be small sandwiches with meat or tuna, olives, or potato dishes depending on the restaurant. When you go, make sure to try as many of these uniquely Spanish finger foods as you can get your hands on!
Basque Country
Finally, el País Vasco, or the Basque Country, is the region bordering northern Spain and southern France. It is embodied by its mountainous, green coastline and amazing Basque cuisine.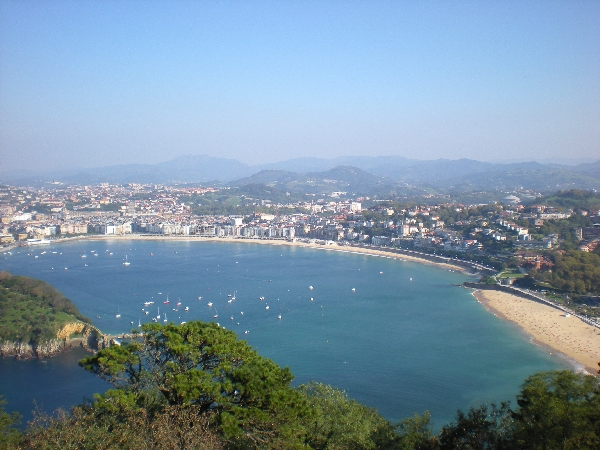 The city of Bilbao in this area is the top spot for business and technology, primarily computers and biotech. It also holds many modern architectural triumphs such as the Guggenheim museum, and beautiful natural wonders such as the amazing beaches on its coastal outskirts.
San Sebastian lies further north, and is home to both the world's best "pintxos" (the Basque version of tapas, pronounced "pinchos"), as well as two more of the prettiest beaches in Europe.