If you've begun studying a foreign language on your own, you might have already run into difficulties with pronunciation. Even if the language is written in a familiar alphabet, and even if its pronunciation is easily divined from its written form, it usually helps to just hear that word read aloud! That's where Forvo comes in.
"All the words in the world. Pronounced."
You can probably guess what Forvo.com is all about from their ambitious slogan. It's a website that seeks to collect pronunciations of as many different words or phrases in as many different languages in as many different dialects as possible.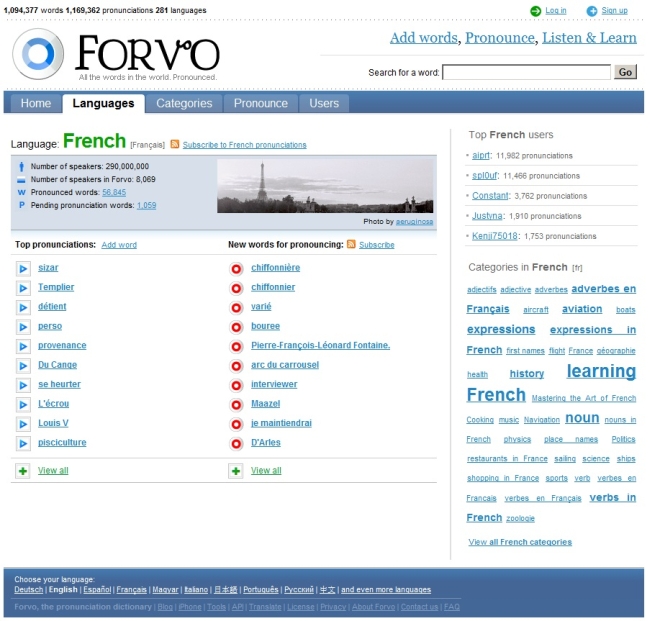 How it works
Each word heading contains a few different pronunciations on its page, in different languages/dialects, as well as a map showing where those pronunciations come from.
Translation, parts of speech, phonetic transcription, a download mp3 option and a share pronunciation option are all available (though sometimes the first three are missing for words of rarer languages). As a registered user (registration is free), you can also rate pronunciations as good or bad, and add your own pronunciation to any word or phrase.
Words can be searched for or browsed by language (and within language by date, popularity, or alphabetically), category, or newly added, as well as by pending pronunciation.
Work in progress
As expected, the project is ongoing. The most number of pronunciations available come in the more common languages, such as English, Portuguese, Russian, German, French, Italian, Chinese, Arabic, and so on, with rarer languages like Swahili, Tamil, and Estonian coming in with 100 or less recordings. (Nerd alert: some Klingon pronunciations are available too!)
This means that Forvo is more useful to language learners of the more popular languages, rather than rarer languages. But since pronunciations are being added often, hopefully this number will grow.
Check it out
All-in-all, this is a solid service that can help you get started in any fairly popular language you're studying. Hearing words spoken, rather than just reading them on a page, helps immensely during the language learning process, and for the low price of $0, Forvo.com is definitely worth a look!